2022 Guide to 4th of July Fireworks in Jacksonville, FL
4th of July Weekend
It's that time of year! We've got your fireworks needs covered from the where and to the when. See ya out there!
Duval County
July 4 | 9:45 PM
Jacksonville's 4th of July Fireworks Celebration
"Our Downtown Jacksonville celebration at Riverfront Plaza will kick off at 5 p.m. with FREE entertainment including a concert presented by Miller Electric Company featuring Bryan Malpass and DJ JHP Entertainment, a family fun zone presented by Kroger Delivery including inflatable skee ball, rollercoaster obstacle course, inflatable axe throwing, bounce houses and more, food trucks and drinks. The night will conclude with fireworks along the St. Johns River at 9:45 p.m. with viewing areas on both the North and South banks."
Fireworks will also be launched at 9:45 PM from the following locations:
4. 121 Financial Ballpark (immediately following the Jacksonville Jumbo Shrimp baseball game)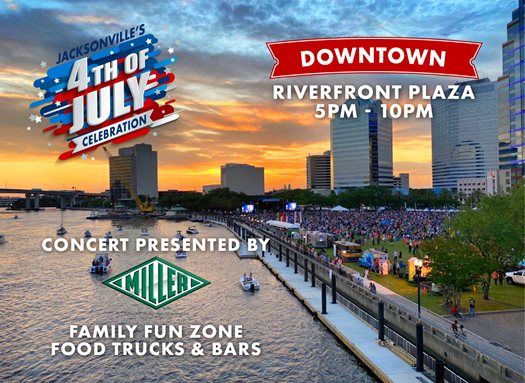 Jacksonville Beach
July 4 | 9:00 PM
Jacksonville's 4th of July Fireworks Celebration
"Jacksonville residents love celebrating Independence Day. So it's only logical that they throw massive 4th of July parties, shows, and ceremonies annually. Let's see what visitors should expect. The 4th of July is a great time for pub and bar crawling in Jacksonville. Numerous rooftop bars open their doors to residents and guests of the city. This way, you'll be able to witness beautiful fireworks and breathtaking views from one of the many rooftops. On Independence Day, Americans have a small tradition of going to restaurants for an all-time classic—burgers. So if you want to celebrate the 4th of July the American way, head to a burger restaurant in Jacksonville. Chances are, your meal will also include french fries and a topping of your choice."
St Johns County
July 4 | 6-10PM
"On Monday, July 4, 2022, St. Augustine celebrates America's birth at the annual St. Augustine's Fourth of July celebration, "Fireworks Over the Matanzas" from 6:00 to 10:00 p.m. The event takes place in the heart of St. Augustine's Historic District, beginning with a live music concert in the Plaza de la Constitución and ending with a spectacular fireworks display over the historic bayfront and the Castillo de San Marcos. "Fireworks Over the Matanzas" is one of the biggest and best fireworks displays on the East Coast, featuring 5,000 individual shells exploding as high as 2,000 feet and as low as 100 feet.
Starting at 6 p.m., the popular local band, The All-Star Orchestra, performs a two-hour show of big band and swing music along with patriotic favorites. The concert is free and open to the public, and everyone is encouraged to bring lawn chairs or blankets for seating."
Fireworks being at 9:30 PM at St. Augustine's historic district. The best viewing points are on the Bridge of Lions and at the Castillo de San Marcos. (Road closures from 8-11 PM)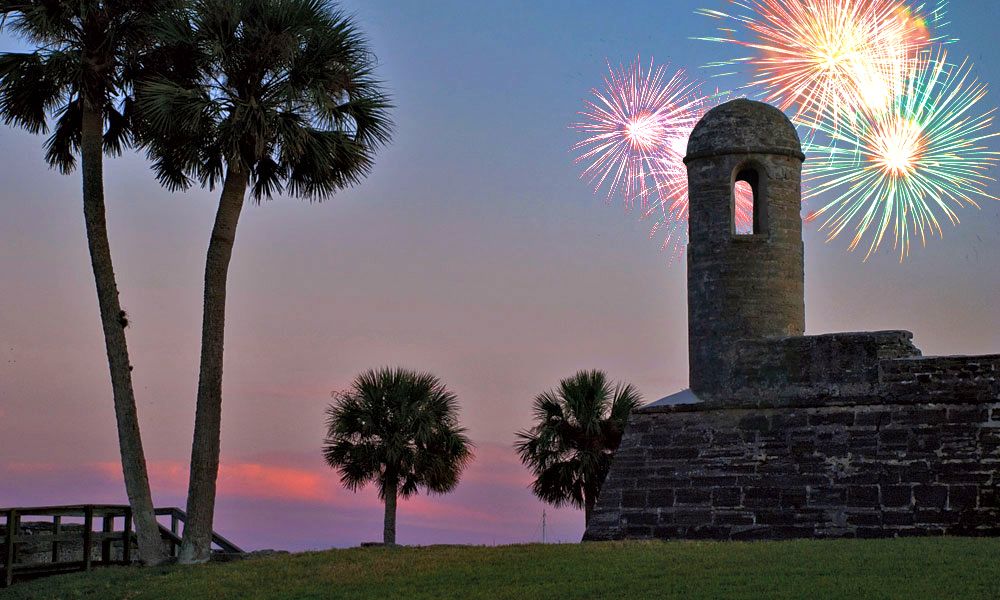 Clay County
July 4 | 6 PM
"Make plans to attend the American Pride 4th of July brought to you by Moosehaven and the Town of Orange Park. The event starts at 6:00pm and features live music. Enjoy delicious food from local Food Truck vendors and watch our spectacular fireworks display over the St Johns River at dusk.
Entertainment by Bold City Classics
Attendance is FREE!
Entertainment is FREE!
Parking is FREE!
Bring a chair and enjoy the show!
Food is available for purchase from local Food Trucks!"
Nassau County
July 4 | 9:00 PM
"Light Up Amelia together with the City of Fernandina Beach and Florida Public Utilities presents the Hometown 4th of July Fireworks! This year will feature a DJ with amplified music, food trucks, and commercial vendors. Fireworks will launch at 9:00pm. This is a family-friendly event, free to the public."

Fernandina Beach: 6-10 PM ( Fireworks begin at 9 PM)
Amelia Island: The Ritz- Carlton (Fireworks begin at 9:15 PM )