Everybody loves a good bite...
Why not make it vegan? Scouring the internet for meat & dairy free options in the neighborhood can be quite the task so we put together this handy list for you, along with our reviews on what stood out to us the most!
Grab a cup of coffee and read on to find out some of what Jax has to offer in way of delicious vegan eats.
Southern Roots Filling Station
---
Sustainable, Quality, Integrity
Tues-Fri 7-4 / Sat 9-5 / Sun 9-4
Breakfast & Lunch
Neighborhood: Riverside
100% vegan
Uses locally owned ethical companies
Snail of Approval
Bulk items sold, BYO containers
Coffee, Beer, Wine
Must Try:
Pair an Iced Lavender Oat Milk Latte with a local favorite: The Santi Bagel
This bagel (pictured) is an unexpected cathartic experience that duels between reliving your best childhood memories and living in the future of what vegan food SHOULD taste like. Southern Roots pairs freshly smeared peanut butter with tofu egg salad, adds on avocado, fresh sprouts and even a kick of sriracha. Comfort? Check. Out of this world good? Check. High Probability for obsession? We warned you.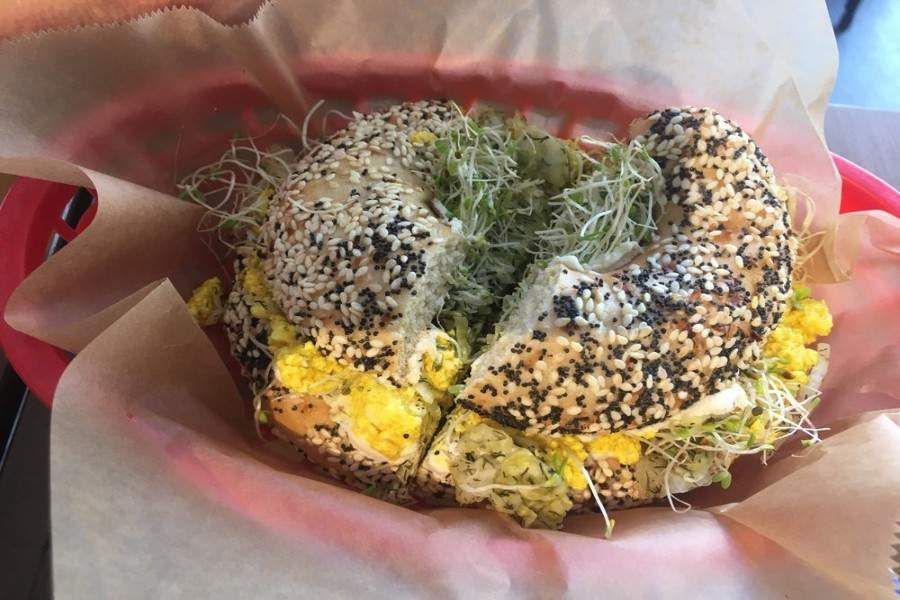 Community Loaves
---
Quality, Comfort, Seasonal
Tues-Fri 7-2/Sat-Sun 8-2
Breakfast & Lunch
Neighborhood: Murray Hill
Locally Sourced Ingredients
Fresh Sourdough Loaves
Produce Available
Coffee, Tea, Kombucha
Must Try:
Dive into the White Bean Avocado bagel paired with a divine side salad.
While Community Loaves is not 100% vegan, definitely don't overlook it the next time you're in the 'Hill. What's the best bite? The White bean avocado bagel (pictured) paired with a side salad (and a magical vegan dressing) or the new Tempeh TMT. Take your pick as they're both viable options!
Psst...Community Loaves is getting a makeover and moved one door over! They're back open and looking fabulous. Can't find it? Follow the fumes of freshly baked bread and what's sure to be a line around the block. We'll see you there!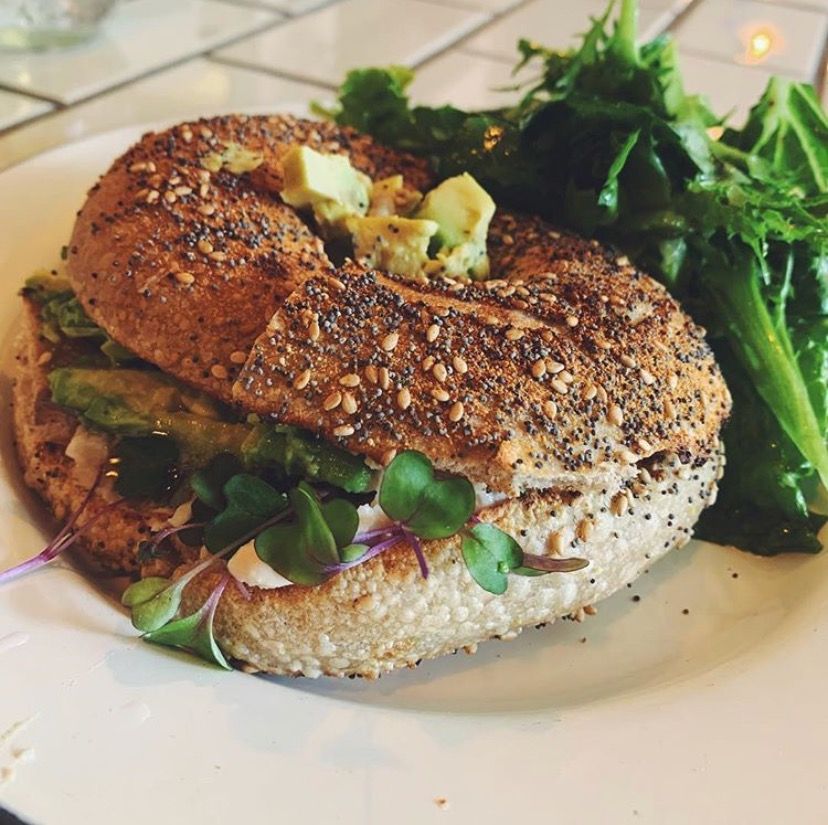 Sushiko
---
Creative, Quality, Delicious
Mon-Thurs 11-10/ Fri- Sat 11-11/ Sun 12-9
Lunch & Dinner
Neighborhood: Avondale
They offer a 100 % vegan menu!
Coffee, Beer, Wine ( And Sake!)
Quaint Atmosphere
Creative pairings
Must Try:
The Vegan Love Boat is an absolute must for any celebration!
Sushiko is THE best kept secret of Jacksonville. Or is it a secret? One could only hope, so that the vegan sushi dream boat never runs out. You would be remiss to not daunt yourself with the task of devouring the entire vegan menu but I'll settle for just a few suggestions to start. A family favorite at Cowford is the JVL roll. Sweet potato tempura, avocado, scallion, tofutti deep fried with rice outside & topped with vegan eel sauce & sesame seeds. Um, yeah. Amazing.
Want another? Try the Golan roll (pictured)! Tempura tofu, mango, sweet potato fried roll, topped with avocado, red tempura bites, cashews and drizzled with mango and eel sauce. Yum!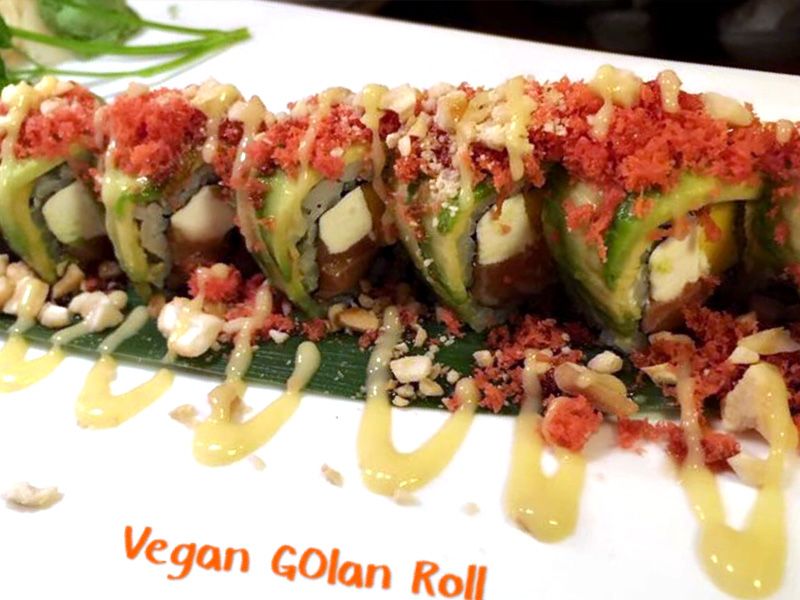 Town Beer Co.
---
Local, Hip, Friendly
Sun-Tues 12-8/ Wed-Sat 12-10
Neighborhood: Murray Hill
Offers a quick & yummy VLT
Beers, Beers & More Beers!
Quaint Atmosphere
Friendly at-home vibe
Must Try:
The Vegan VLT sandwich with a bag of chips and a cold brew!
Want a quiet space to go on your lunch break with a plethora of local beers and organic wines? Then Town needs to be put on your radar & not just because the owners are honestly the sweetest, but because they've recently rolled out three delicious (and healthy!) sandwiches thanks to Grassroots Natural Market.
It's layered with tempeh, organic tomato, lettuce, avocado spread, nutritional yeast and vegenaise. The texture of the Tempeh was out of this world and paired with a cold local brew; lunch could not have been better. Grab yourself a growler while you're there and tell the owners, Priya and Alex, you'll see them next week, because visiting family is important and even better with a pint.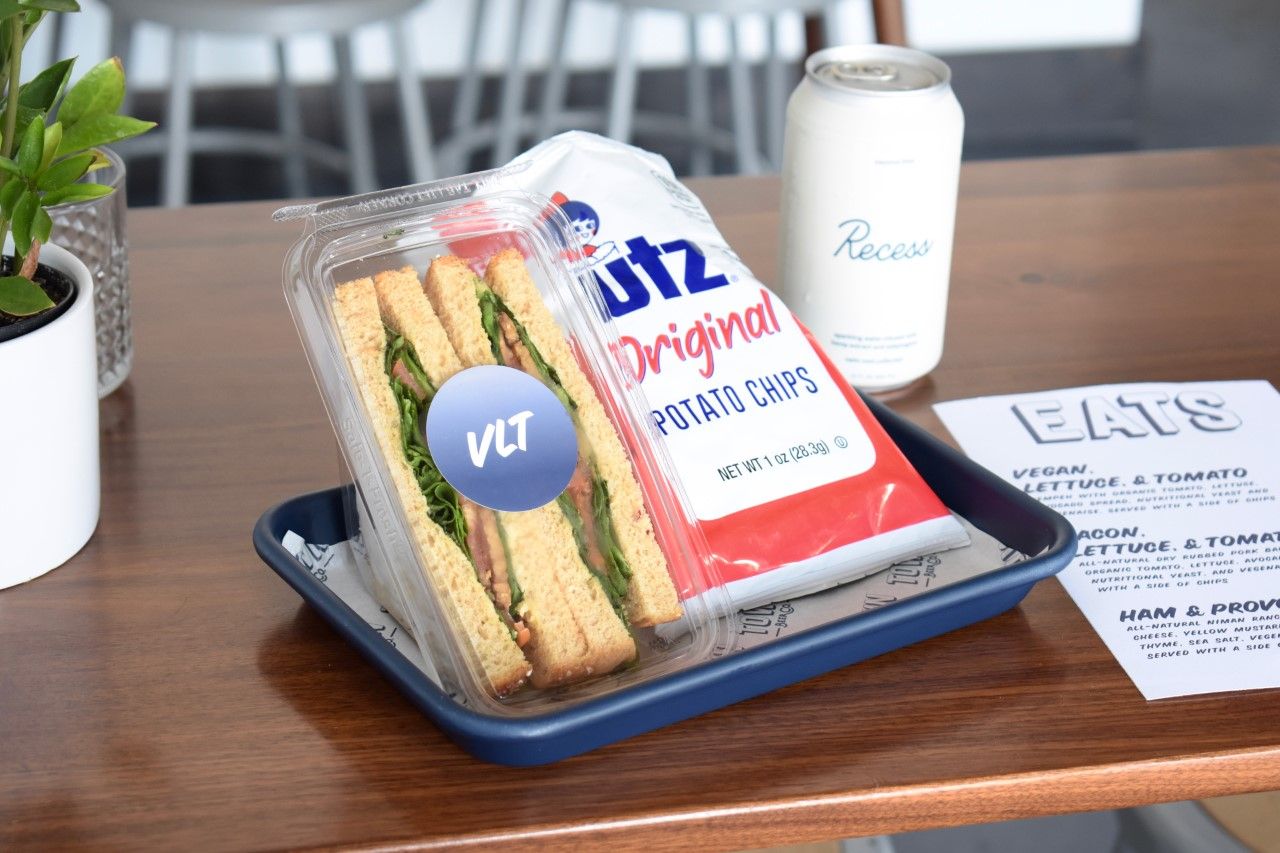 Grenville Kitchen
---
Seasonal, Comfort, Fresh
Mon-Wed 1-8 / Thurs-Sat 12-8
Lunch & Dinner
Neighborhood: Springfield
Nutrient Packed
Food from scratch
100% vegan
Desserts, Juices
Must Try:
Phish, garlic rice and steamed veggies is a warm invitation when met with a hankering for comfort food.
Grenville is a soulful spot that lends itself towards honest and comfort fueled cooking. Once you step in you know you're somewhere special. Grenville delivers the food you want that you either don't know how to cook or don't have the time to make, and boy is it good!
This downtown spot offers constantly rotating dishes of seasonal and fresh food plated up with a southern comfort twist. The phish, garlic rice and steamed veggies (pictured) was perfect on a rainy day and it would behove you to check it out for yourself!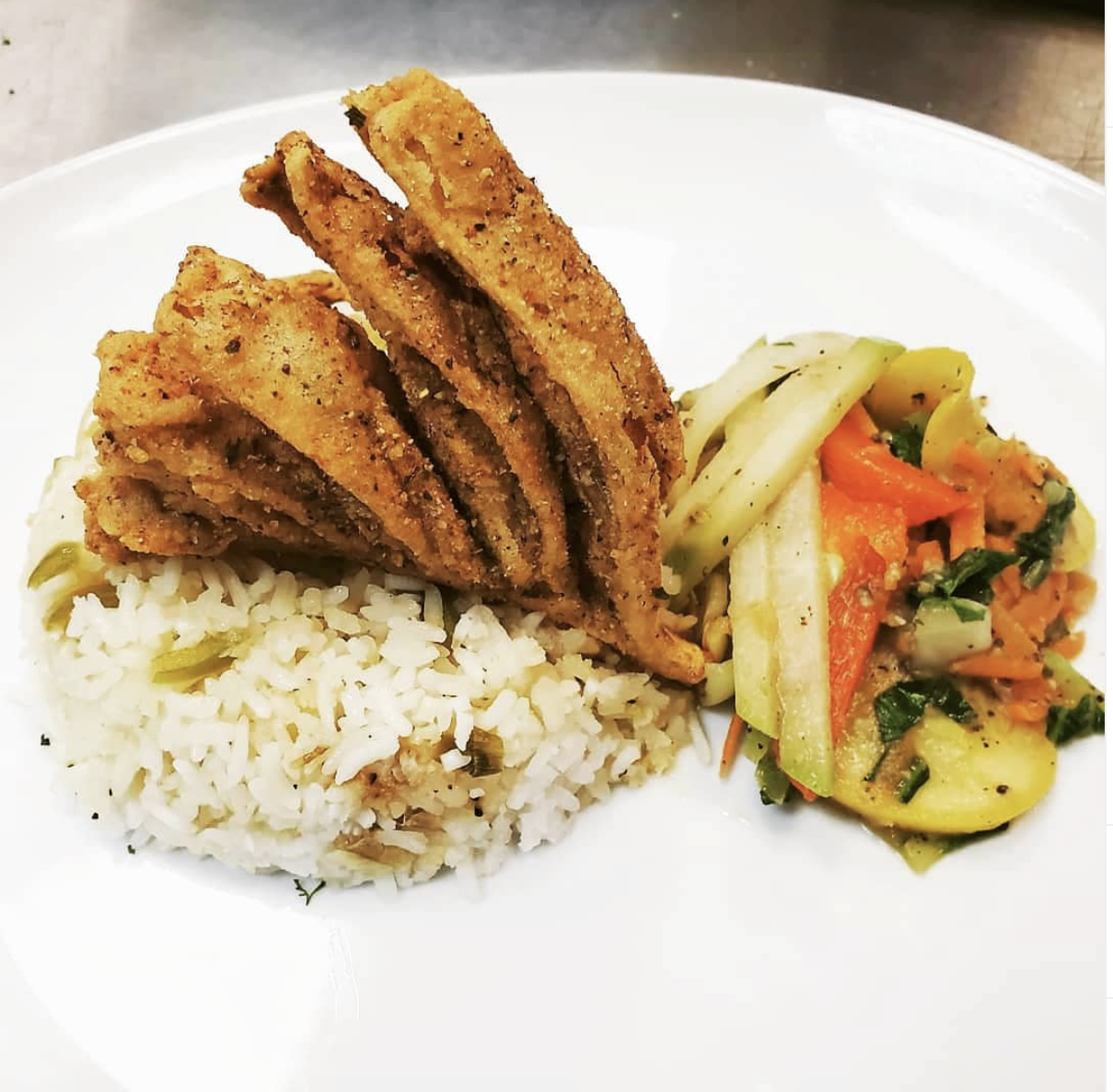 Nacho Taco
---
Local, Fresh, Quality
Mon-Sat 10:30-9
Lunch & Dinner
Neighborhood: Riverside
Outdoor seating
House made beans & rice
Fresh & local ingredients
Mexican sodas
Must Try:
You could travel to Mexico for authentic Mexican or you could just stop at Nacho Taco ! If you pick the latter, don't go without ordering the infamous flautas.
Corner Taco has you covered for the staples you want on Taco Tuesday and then some! With many a vegan dishes to choose from; Cowford's favorite are the vegan flautas stuffed with faux chicken, vegan sour cream, pinto beans, rice and vegan cheese. They even give you a side mexican salad to boot! The atmosphere is cozy with outdoor picnic table dining and colorful umbrellas. The customer service is always superb and they have all the fixings to make your lunch or dinner just as enjoyable at home should you want to take out!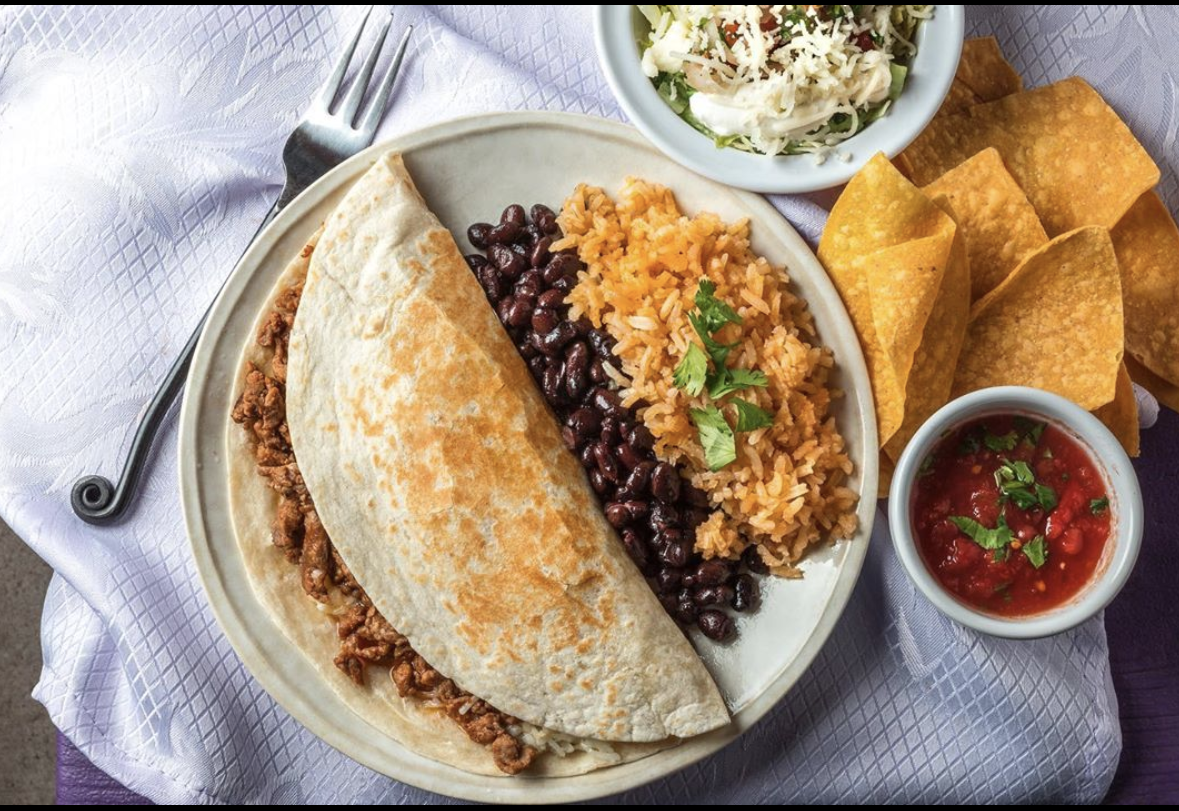 Murray HillBilly
---
Ethical, Compassionate, Comfort
Wednesday-Sunday 12-8
Lunch & Dinner
Neighborhood: Murray Hill
Value Options
Kombucha on tap
100% vegan
Locally sourced/ house-made eats
Must Try:
The only problem you'll run into at Murray Hillbilly is choosing what to eat! We're stuck on The Bubba & The HillBilly Whopper. Which one is your flaovr?
When Murray Hillbilly came to Murray Hill it opened with a vengeance and a mission to serve up mouth watering, passionate and ethical food. Not only are they on the map for Murray Hill, but one look around social media and you'll see that their following had reached far in the 904.
With passion comes an audience and they're definitely here to stay. When you hit up this 100% vegan restaurant make sure you check out The Bubba (pictured). It dotes bbq soy chicken topped with house made slaw and their special sauce on lettuce and tomato. If you're in the mood for a burger, dig into the HillBilly Whopper. Their vegan burger patty is topped with house-made chedda cheeze, lettuce, tomato and bbq chicken to top it off.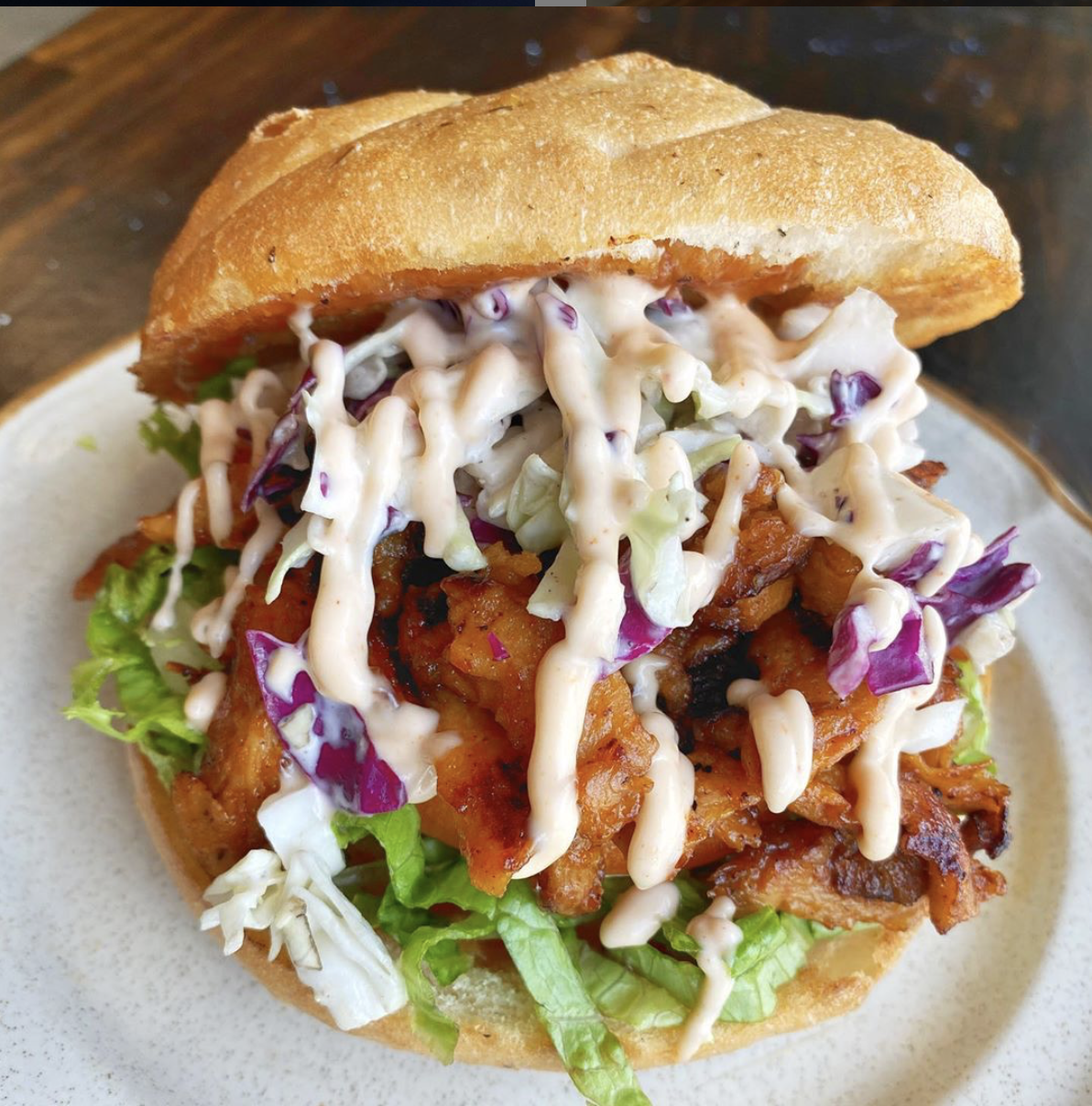 Sweet Theory Baking Co.
---
Comfort, Community, Quality
Wed-Fri 8-4/ Sat- Sun 10-4
Lunch & Dinner
Neighborhood: Murray Hill
100% vegan
Offers curbside pickup
Favors all natural & organic ingredients
Baked fresh daily
Gluten free options available
Must Try:
Talk about bakery Heaven! Sweet Theory is just that; a total treat. From cookie sandwiches to Homer donuts, Cowford is jumping for joy that it's just around the corner.
Follow the smells or just look for the line wrapped around the building and you'll find yourself at the cutest little bakery where the early bird truly gets the worm... or, donuts. Make sure you call ahead or get their first thing because Sweet Theory sells out quick and for good reason.
Cowford's favorite treats are the cookie sandwich (pictured) and the Homer donut. The cookie sandwich layers two chocolate chip cookies with a mountain of yummy frosting inside. Childhood memories anyone? The Homer Donut (yes, like the Simpsons!) is pink frosted with the cutest little sprinkles on top. Cowford will see ya in line sometime, I'm sure!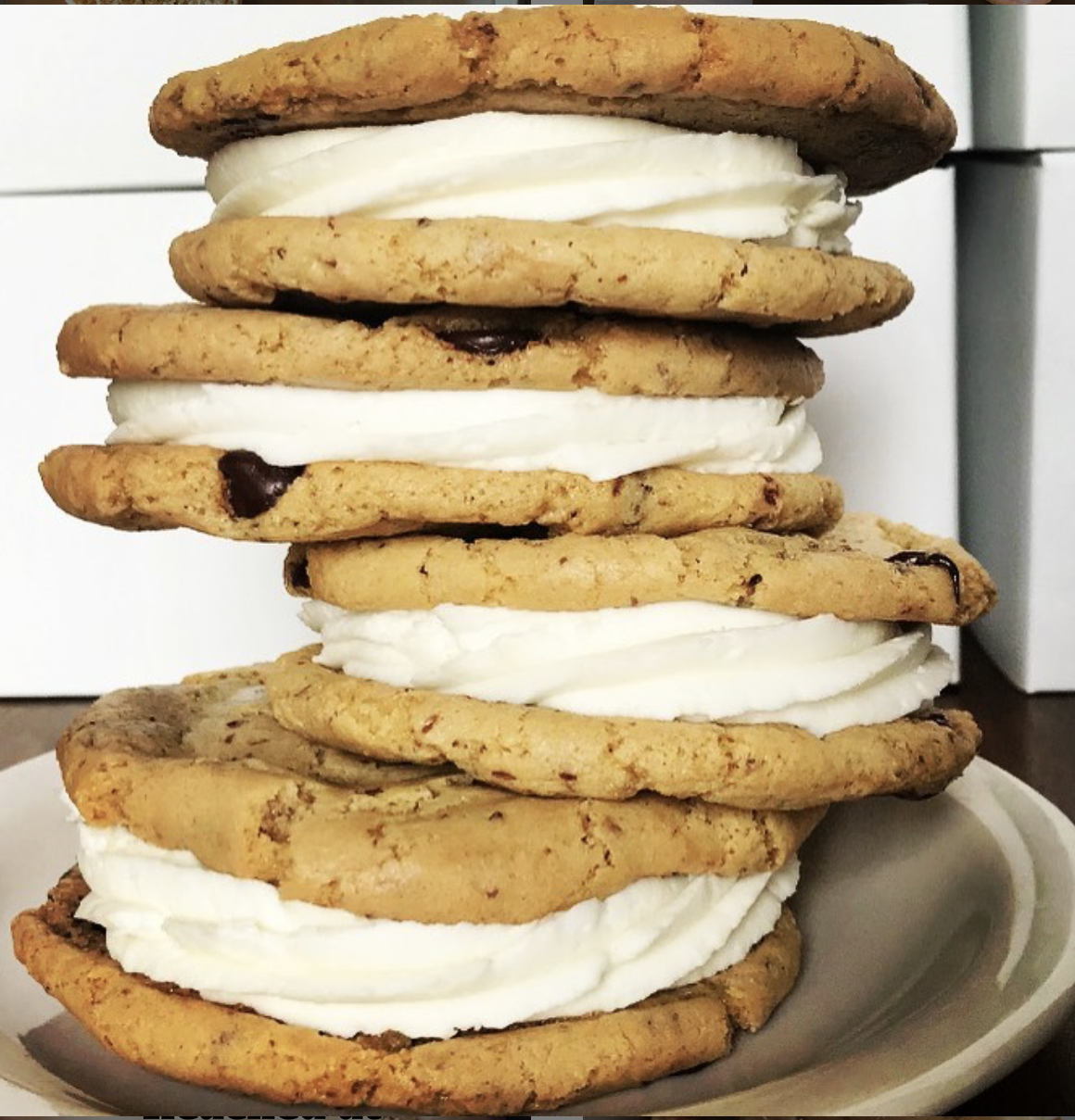 Want to talk to someone directly?
---
Someone who can offer their perspective?
Reach out to us directly at 904-330-4733 or fill out the brief form here and someone will be in touch with you shortly.
Our team is passionate about where we live and would love to help guide you as you learn more about our beautiful city!